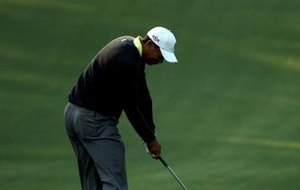 PGA.com's golf glossary defines lie angle as "the angle of the sole of the club relative to the shaft." In practical terms, lie angle refers to the way in which the sole lies on the ground when you strike the ball. Frank Thomas of Golf.com explains that when the club's heel touches the ground at impact, while the toe doesn't, the lie angle is too upright, causing your shots to stray to the left. Conversely, if only the toe touches the ground the lie angle is too flat and you'll likely hit shots to the right of your target. Ideally, the soles of your fairway woods should lie level on the ground at impact. If they don't, you have several options to correct the problem.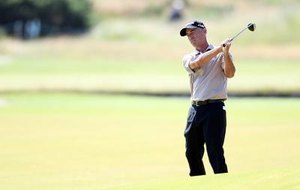 A right-handed player's hook is a shot in which the ball moves right to left because of sidespin created when the golfer hits the ball. You can hook the ball with any club, including fairway woods, which are generally used for second shots on long par-4 or par-5 holes. In either case, hooking a fairway wood leaves you with little chance to hit the green in regulation. Golf professionals offer several common remedies to correct a hook.
Fairway woods in general, and 3-woods in particular, are difficult clubs for many golfers. Noted swing coach Butch Harmon says that even some players who hit 5-woods or 7-woods well will struggle with the less-lofted 3-wood. Using the correct alignment, however, and practicing proper swing mechanics can help you improve your 3-wood game. Despite the name, modern fairway woods are all made with metal club heads.