When most golfers talk about adding weight to a golf club, what they are really talking about is the swing weight of the club: adding weight to the head of the club in order to increase the speed of the swing and thereby increase the distance that the ball is hit. There are ...
Featured Picks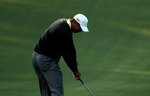 PGA.com's golf glossary defines lie angle as "the angle of the sole of the club relative to the shaft." In practical terms, lie angle refers to the way in which the sole lies on the ground when you strike the ball. Frank Thomas of Golf.com explains that when ...
Steel or graphite? This question makes many golfers scratch their heads as to which is best for them. Picking the proper shaft is the most critical step in deciding which clubs to buy. The shaft is the "engine" of the golf club. It transfers the energy from your hands ...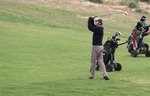 You have been shopping for a new set of golf clubs and might have noticed those with graphite shafts are more expensive than those with steel shafts. While the extra amount might not be in your budget, consider graphite shafts might be better for your game.