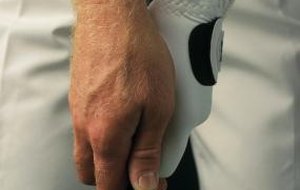 The slice shot with the driver is a common shot among amateur golfers. A slice is any shot that curves hard to the right in the air (for a right-handed player). Golfers often find themselves in the woods after hitting a slice. A slice shot is caused by a poor grip and setup, an outside-to-in downswing path and an open clubface. An outside-to-in path occurs when the golfer reaches too far on the downside, bringing the club down to the right of the ball (outside), relative to the target line. This forces him to pull the clubhead closer (inside) to strike the ball on the tee. An open clubface means the clubface points to the right of the target at impact. To eliminate the slice you need the proper grip and setup, an inside-to-out downswing path and a square clubface. After making these corrections you can enjoy a slice-free golf game.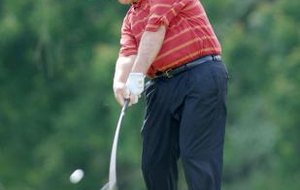 Although many weekend players struggle to eliminate a slice, there are times when a slice — or its less extreme brother, a fade — is exactly what you need. But it can be hard to learn how to control a slice. Each instructor seems to have his own favorite method, and those methods often seem to contradict each other. They really don't.
The first known golf tees -- hand-built piles of sand -- did nothing to help golfers hit the ball straight. Even modern tees aren't supposed to affect the ball's flight, according to the Rules of Golf. In casual play, however, a golfer who's prone to slicing the ball may wish to try an anti-slice tee. This device is basically a standard tee plus a curved plastic flap that rises from the tee's crown to cover about one-quarter of the ball's surface. The flap is designed to prevent the club head from imparting a sideways spin on the ball. That sideways spin causes a slice, according to PGA professional Mark Blakemore.