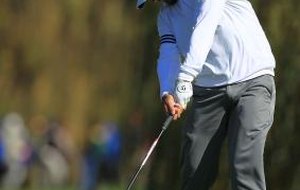 The purpose of a golf grip is very simple – to help you keep a firm hold on the club during your swing with as little tension as possible. How it accomplishes that goal – and how it affects your swinging motion – is more complex. The grip is your only contact with the club. You must understand what a grip can and can't do, and how to get the most from it.
When you swing a golf club the only part you touch is the grip. When your grips become cracked, worn or slick, it's time for new ones, and replacing them is one of the easiest ways to improve your game. According to Golf.com, a survey found that 66 percent of amateurs who changed their grips improved their scores by as many as four strokes.
Many players have a problem with losing their grip on the club at the top of their backswing, forcing them to "regrip" the club as they start down. This is a common problem, even mentioned by Bobby Jones in his book, "Bobby Jones on Golf." You can easily prevent this problem can be easily, however, by taking a few simple precautions.